Ibiza ChillOut Sokhna
Master group has announced its unique and newest project " Ibiza chillout " . Master group sees this resort as a new challenge to add more excellence to its long history of success in the real estate market .
Master group :-
Master group is a group of companies working on establishing projects in the residential real estate sector , constructing tourist villages , achieving the best performance and providing high standards of services in all projects .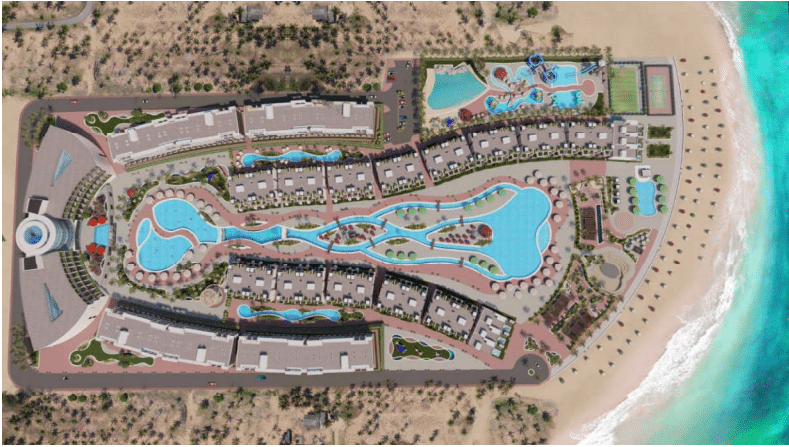 Master group has great experience in real estate and proud to have its own projects , it has many features and factors that make customers don't hesitate for a second to deal with it .
Master group is a leading company in the real estate field , it has been able to continue under the huge global development in construction
Its projects :-
The city new capital
Developer of white bay resort
What is Ibiza chillout ?
After the great success of the city project on the new capital city , Master group started to announce its new project " Ibiza chillout " in Elain Elsokhna putting all its rust on the success of this resort because it has worked hard on it and put in it all its previous experience in the real estate field. Ibiza chillout was supposed to be a resort to attract tourists all the year not in summer only .
The resort set on 3 meters above sea level to enjoy the view of the sea inside your chalet , it's set on area of 27 acres overlooking the turquoise beach on an area of 300 m² and the depth of the beach is 400 m
Advantages of Ibiza chillout :-
The project is implemented by Master group which has a long history in the market and it's an attractive factor for making customers don't worry to deal with company
It's located on kilo 58 Zaafrana road and next to Lavista 5
Ibiza chillout resort is a fully integrated services resort
All the units overlooking the sea and enjoy a wonderful view
All residents will enjoy hotel services
Fully-finished units
Best installment payment plans
Location :-
Ibiza chillout is distinguished by its finest location which make it a competitive advantage over others . it's located in 58km in the middle of Ain sokhna on Zaafrana road and next to Lavista 5
Building / area
Master group has an advantage that it understands how different tastes are so it keen on offering different units in terms of space and price to
Suit everyone
It offers chalets starting with one bedroom up to 3 bedrooms
Services :-
Shopping Mall on the Zaafrana road set on area of 4000 m² which have international brands , cafes , restaurants , supermarkets and pharmacies
5 swimming pools separated among the units
4 stars hotels
Kids area
Artificial lakes
Playground area
Sports clib
SPA, Gym and Jacuzzi
Aqua park on an area of 3 acres
Free parking
Club house
Security system
طلب عرض اسعار ابيزا شيل أوت السخنة
Take a look at Chanps Elysees Mall New Capital