WELCOME TO NEW ZAYED, WELCOME TO THE ESTATES RESIDENCES…
Welcome to New Zayed, the modern-day prime location
of west Cairo. In the heart of New Zayed, The Estates
Residences is found neighboring The Estates, directly
adjacent to the Cairo-Alex highway and parallel to the
Dabaa Road, effortlessly reachable to all the services of
the surrounding Sheikh Zayed. The community is a
quick 6.5 km from SODIC West, 14 km from Juhayna
The Location Of THE ESTATES RESIDENCES
Square, only 3.5 km to the Sphinx International Airport.
SODIC West
(2 mins)
Sphinx Airport
(3 mins)
Mehwar Corridor
(7 mins)
Arkan Plaza
(12 mins)
Grand Museum
(15 mins)
Mohandiseen
(25 mins)
Heliopolis
(50 mins)
Wander in the lavish green pathways on foot or
by bike, enjoying a healthy and safe trip in
endless scenic parks. The meandering green
spine gracefully connecting all neighborhoods
offers pedestrian friendly community,
connectivity, vibrant living environment, and
healthy lifestyle.
The lakes
Journey toward whatever appeals to you in the
moment at the parks of The Estates Residences, Take
a break by the breathtaking serene water bodies
surrounding the vast landscape havens, offering
relaxation and great essence of nature, giving prime
views for units, great essence of nature, and
relaxation.
Sports facilities
 
 
 
 
Tennis courts
Padel tennis courts
5aside football pitch
It won't take long for you to find all you're looking for, nearby
your house located at The Estates convenience hub. Offering:
Supermarket
High-end laundromat
Medical clinic
Veterinary clinic
Various F&B outlets
Spacious outdoor retail experiences
The Estates Residences is meticulously designed for the effortless
luxury seekers and detail-oriented communities, where every
moment spent is exceptional.
Apartment  feature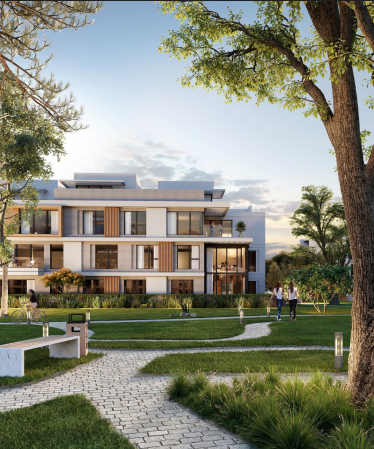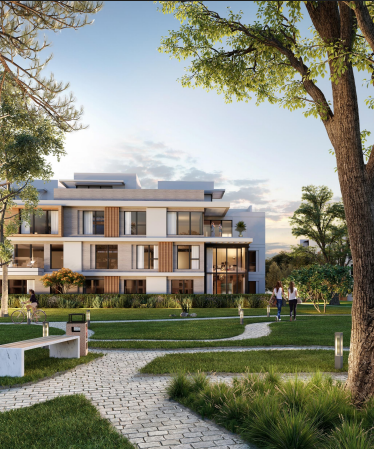 Main building features are:
Building height: G+2 plus penthouse
Double height entrances
Elegant cladded facades
Buildings A&B: 4 units per core
Buildings C1 & C2: 2-3 units per core (single loaded)
Surface parking
Elevator reachable to penthouses
Main apartment features are:
Double glazing for better sound, heat and
wind insulation.
Fully finished using imported high end
materials and 2 schemes options.
All ACs are concealed except in kitchens
and nanny's room; provisions only.
All units on the second floor have roof
annexes with accessibility from outside
the unit.
The duplexes
The fully
-finished Duplexes offer wider windows to
draw in more natural light into your home, and to
enhance your viewing pleasure at the landscaped
lawns outside
. The tailored-to-your-specifications
large residential spaces come with double heighted
ceilings,
4 bedrooms, family living and the duplexes
have their own private entrance
Only available in
1 building type